Advanced General Ledger includes improvements to standard Business Central functionality with posting controls, improved visibility to Dimensions and controls to disable Direct Posting on General Ledger Accounts.
Restrict viewing of Chart of Accounts
Users can be restricted from viewing the Chart of Accounts altogether, or they can be limited to the G/L Accounts they can see based on a G/L Account filter on the User Setup.
To enable this functionality, select the Restrict View Chart of Accounts from the General Ledger Setup page. This option must be enabled before the restrictions can be administered at the User level.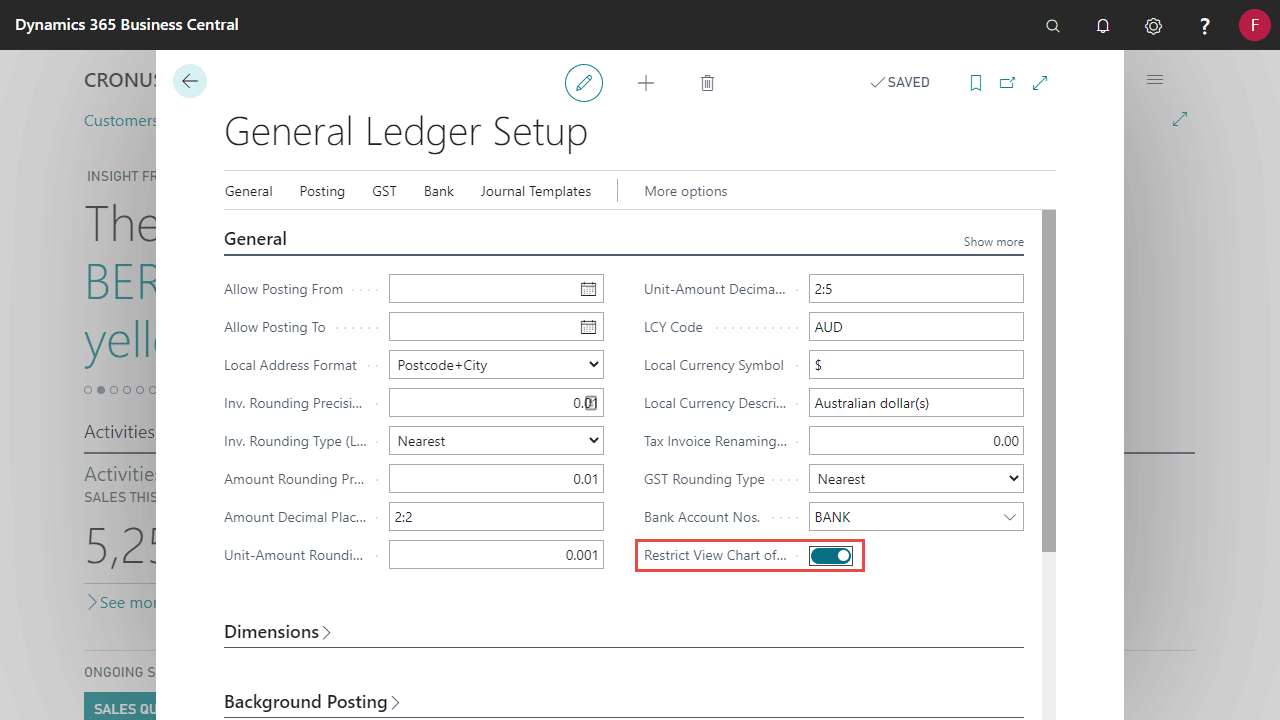 From the User Setup page, select Allow View Chart of Accounts for users who should have this visibility.
To limit the accounts the user can see, populated the G/L Account Filter field. Use standard Business Central filtering options e.g. 1000..6000.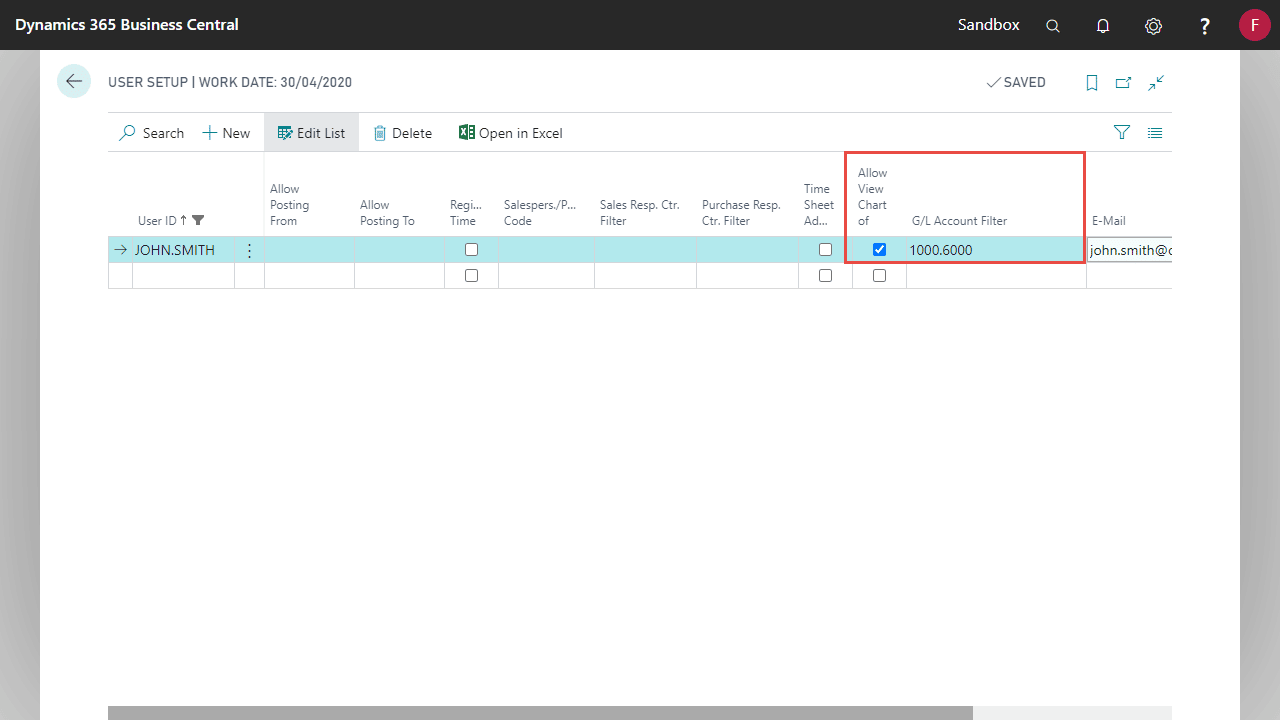 An error will be shown if the user tries to open the Chart of Accounts Page but does not have the View Chart of Accounts permission. All pages for G/L Account where a dollar value is shown are also restricted.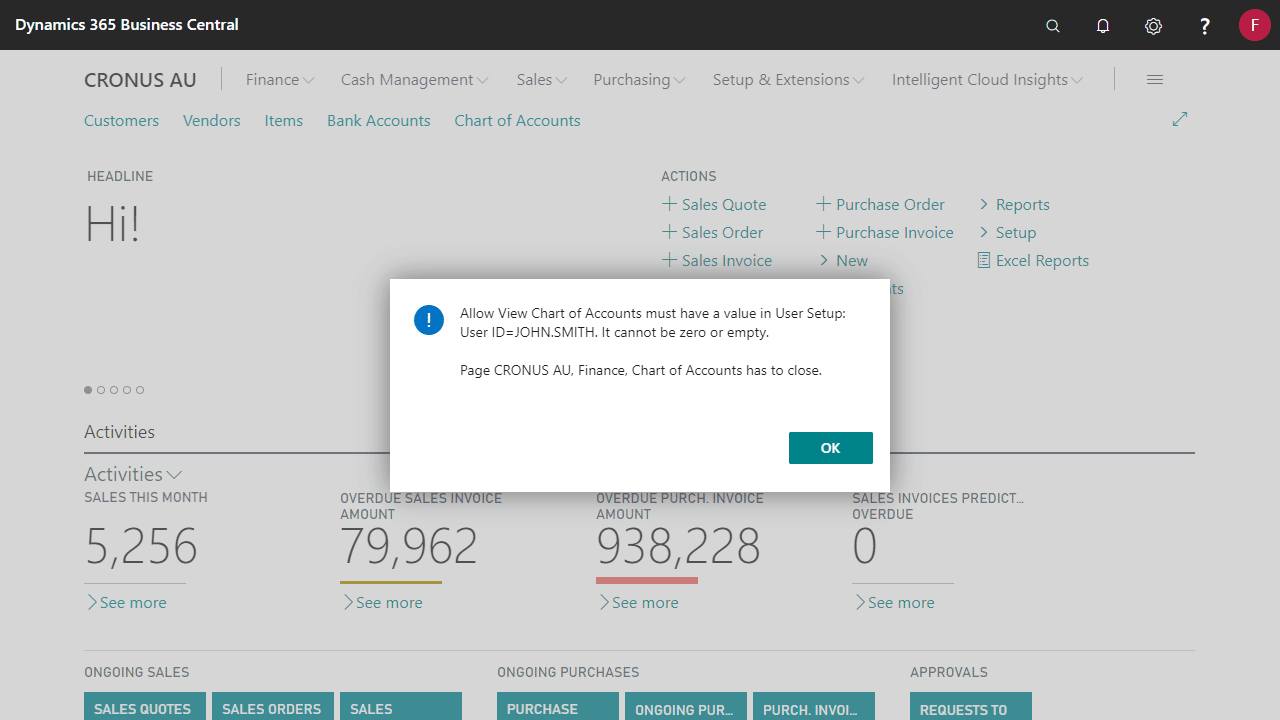 If a user has the View Chart of Accounts permission and a filter set, they will not be able to see the Accounts within the filter. This filter cannot be cleared by the user.
The G/L Account List is not restricted as it does not show Amounts, however the filter is applied facilitating the ability to provide a shortened list of Accounts when the user is looking up on Documents and Journals.
Bulk disable Default Direct Posting on G/L Accounts
G/L Accounts that are used in posting setups should not have Direct Posting enabled. Typically, during the implementation process all accounts are set to allow Direct Posting as opening balances must be posted, however once the take on process is completed, control accounts must have Direct Posting disabled.
Set Default Direct Posting will automatically disable Direct Posting on all General Accounts Control accounts that are specified in the following posting groups and setups:
Customer Posting Group
Vendor posting Group
Job Posting Group
Bank Account Posting Group
General Posting Setup
VAT Posting Setup
FA Posting Group
Inventory Posting Setup
WHT Posting Setup (for Australia only)
This can be run at any time as new accounts are added and to ensure the integrity of Direct Posting has been maintained.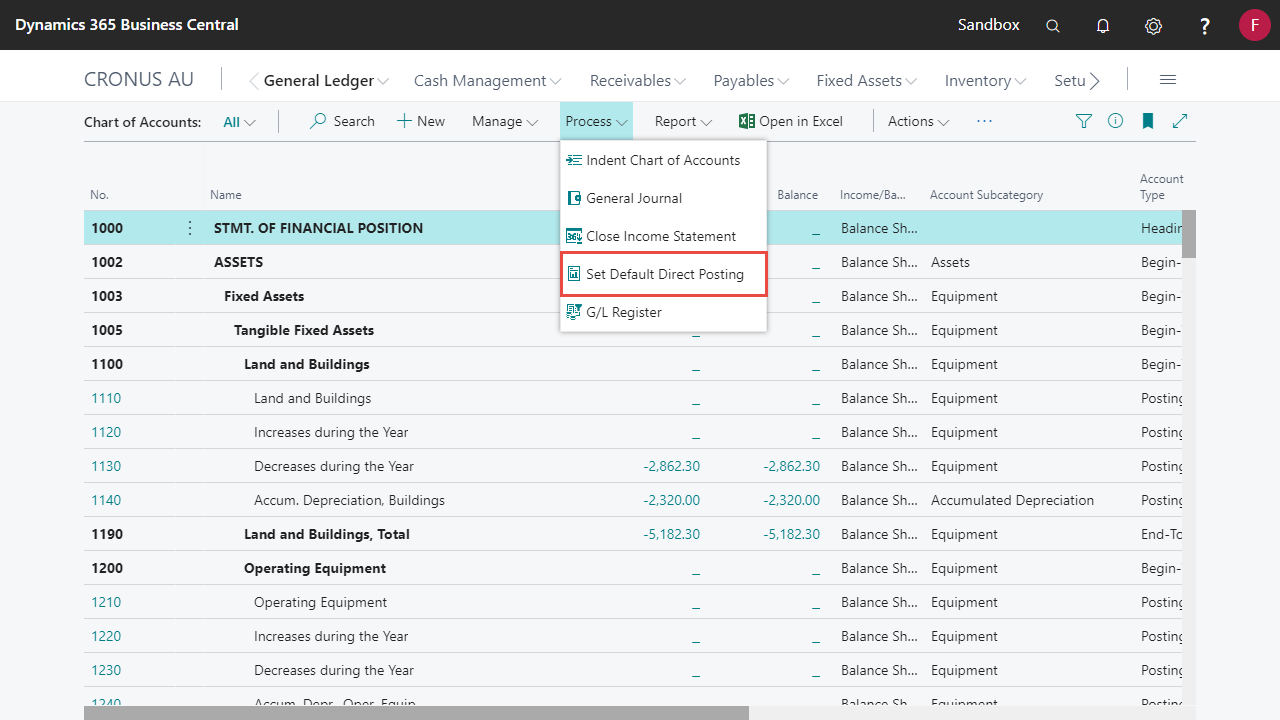 Leave the No. filter blank to update all General Ledger Accounts.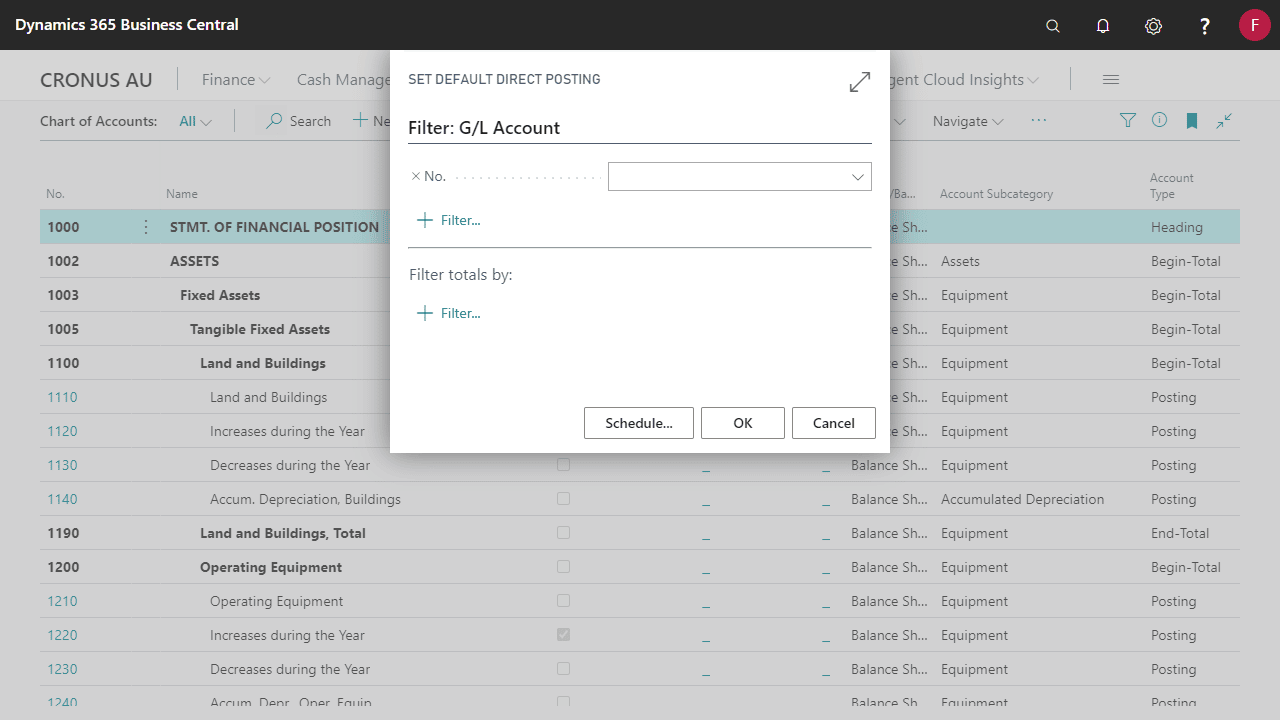 Additional fields on General Ledger Entry to improve traceability
To assist with filtering and reporting of General Ledger Entries, Creation Date, Register No. and Item No. have been made accessible from General Ledger Entries page.
Source No. and Source Name as also been added for reference.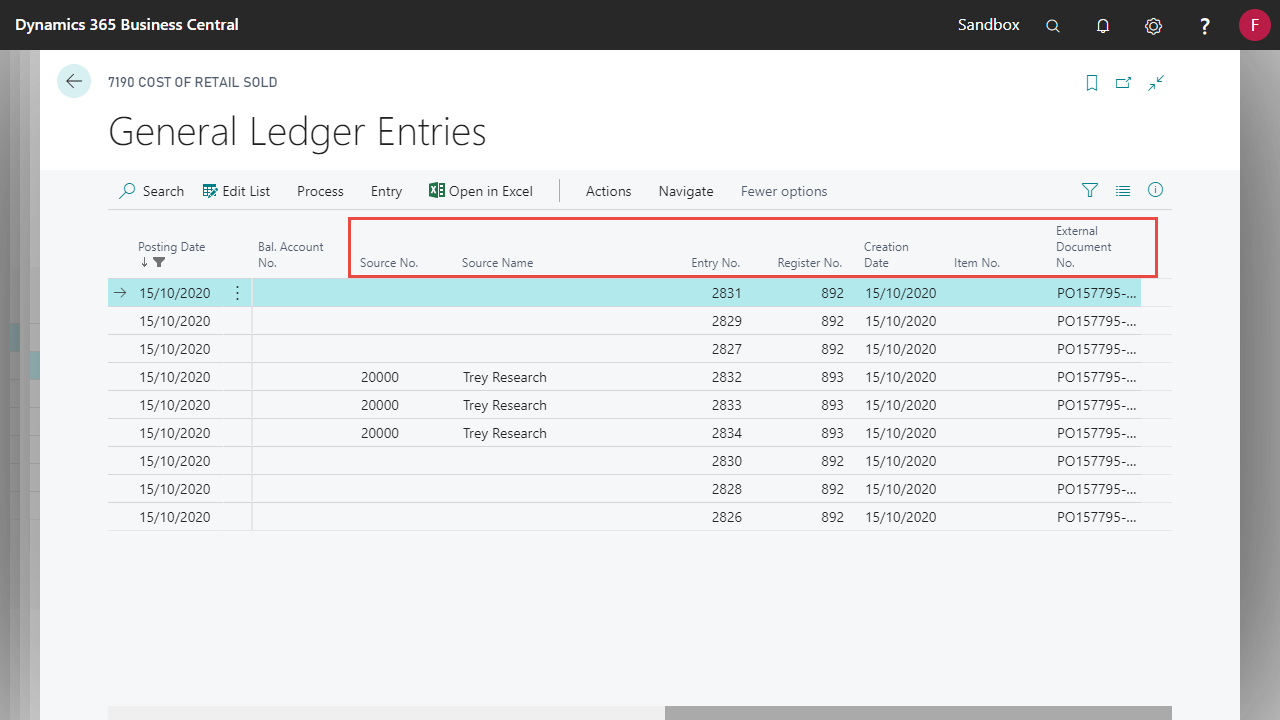 Show Shortcut Dimensions on General Ledger Entries
This feature is only available for Business Central versions before 17.3 and has become part of standard Business Central from 17.3 onwards.
By default, only Global Dimension 1 and Global Dimension 2 can be made visible on General Ledger Entries. Advanced General Ledger will automatically show the two Global and six Shortcut Dimensions once setup on General Ledger Setup.
In the below example, Business Group Code, Item Group Code, and Item Subgroup Code are all Shortcut Dimensions. These are now visible by default on all General Ledger Entries.