On April 2, 2018, Microsoft rebranded Dynamics NAV and Navision to Dynamics 365 Business Central.
This is Microsoft's cloud ERP solution for the SMB market, and is the ultimate successor to the Dynamics NAV and Navision brands.
What are the differences between Dynamics NAV and Business Central?
Dynamics 365 Business Central offers all the same functionality currently available in Dynamics NAV, and more.
Business Central also includes functionality that is currently in the Extended Pack, along with the ability to enhance functionality via 'Extensions' or 'Apps'.
Similar to a traditional Dynamics NAV enhancement, an App will change, or add to the existing functionality of the software. However, unlike a traditional enhancement, it won't affect the core code base.
For the hosted version, this means that as Microsoft roll out monthly updates to the product, all worldwide users will be on the same code base, and able to update their core application.
Apps enable you to significantly extend the standard functionality of the product but do have some limitations and do not offer the complete capability of a traditional enhancement.
What about on-premise deployments?
The on-premise version of Business Central is released as of October 2018. It offers the ability to use traditional enhancements.
The 'on-premise' branding is a little misleading – you will still have the ability to have this version of the software hosted on Azure (as you currently do with Dynamics NAV) though software upgrades will not automatically apply as they are released from Microsoft. These updates still need to be applied by a Business Central partner.
An active software maintenance plan is required to use your license in a hosted environment such as Azure.
How does this fit into Microsoft Dynamics 365 portfolio?
Microsoft will continue to offer Dynamics 365 Sales, Marketing, Customer Service, and Field Service, which all offer parts of the functionality that was once available in Dynamics CRM. They will also continue to offer Dynamics 365 Finance and Operations, which is a rebranded version of Dynamics AX.
Roadmap
The Roadmap image below gives a good summary of the planned Microsoft direction.
Fenwick offers Apps, Implementation and Support services to anyone wishing to implement Business Central, and with our 20 years' experience with NAV, we'll have an expert team to support your Dynamics 365 system.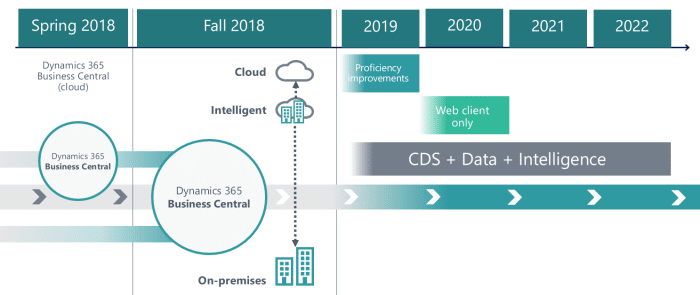 Any Questions?
Contact us to talk with a consultant about Business Central and the future direction of Dynamics NAV.