To ensure the effective and successful implementation of Dynamics 365 Business Central / Dynamics NAV, our consulting team works closely with your personnel through every aspect of analysis, design, testing, training and roll-out.
We identify the needs and operations specific to your business and attenuate Business Central accordingly to ensure its relevance as your business changes and grows.
Collaboration – The Key to Success
More than 100,000 businesses use Dynamics 365 Business Central / Dynamics NAV worldwide.
Every single one has provided feedback that has shaped its development, which means the world's best practice and invaluable intellectual property have informed and refined its design.
Additionally, Fenwick Software consultants have worked closely with the product since 1998, equipping them with unparalleled understanding of this highly refined product and its unique capabilities.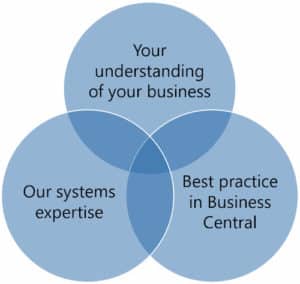 While Fenwick best understands the product, you best understand your business. Your knowledge of how your company actually works is crucial to the success and efficiency of the solution.
In turn, Fenwick can engage and inspire your staff to think about ways to improve and streamline your processes, increasing the efficiency – and therefore profitability – of your company. It's this aspect of your Fenwick Partnership that proves invaluable as your business and its processes develop.
Continuing Support
You can rely on day-to-day ongoing support services, including:
Access to our online help desk support
On-site support
Comprehensive training
Upgrades to the latest versions of your software
Consulting Advice
Just as the business landscape will change, so may your system requirements. As an integral part of our ERP implementation service, we continue to adapt your systems to changing requirements, and implement relevant Apps in new areas of the business where necessary. Our consulting advice ensures your software keeps up with your operations, and vice versa.