If you're seeing the following error or a similar one while sending an email, it may be due to a recent TLS change by Microsoft to turn off older, insecure emailing features.
Failure sending mail. Authentication failed because the remote party has closed the transport stream.
Why should it concern you? Transport Layer Security (TLS) is the technology that secures the connection between you and the server. It ensures the bad actors can't view the data you send over the Internet.
Is my system affected by the email TLS error?
The error only affects older versions of Microsoft Dynamics NAV prior to NAV 2017. If you're running Dynamics 365 Business Central you will not need to take any action. However if you're using Microsoft 365 as SMTP Mail Setup on your system you may be affected by this error. The good news is corporate SMTP servers or other SMTP providers may not be affected. Moving to TLS v1.2 is the correct long-term fix.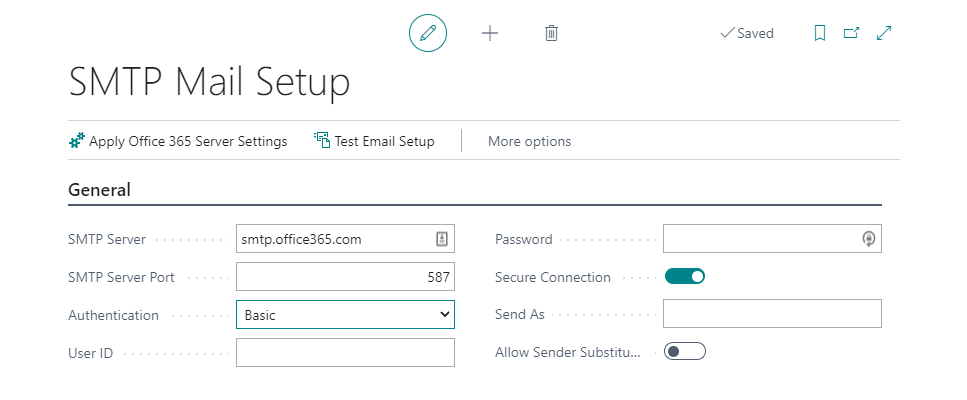 Fenwick Cloud, our hosted Dynamics service, is not affected as it has already been patched.
Industry removal of out-of-date TLS versions
TLS v1.0 and v1.1 have known security issues. The industry is moving to TLS v1.2 which is up to date.
This is a long-term project that Microsoft has been undertaking for the past few years. The deadline was initially delayed due to COVID, but it resumed with the start date of October 15, 2020.
The rollout has taken months to complete, so failures might appear more often as we get further past the initial rollout.
Resolving the sending email sending error
To fix the email TLS error, you'll need to enable TLS1.2 on your Service Tier server. You can do this by editing the registry based on the "enable TLS 1.2 on clients" guide from Microsoft. Once this registry patch is applied you can restart the server. Your emails should then send correctly.
If you're having trouble getting your emails to send correctly even after applying the registry patch, please by all means get in touch. We'll do our best to help.
Moving to newer versions of Business Central
This issue doesn't affect more recent versions of Business Central, but if you're still using Dynamics NAV then you're at risk of receiving no support from Microsoft for industry-wide changes such as this one. Upgrading to Business Central coupled with ongoing support is the best long-term solution.
If you're unable to resolve the error, please by all means get in touch with us to discuss how we could help you.