In May 2022, Microsoft released a brand new Shopify connector for Dynamics 365 Business Central. This provides bidirectional integration between the two system to synchronise order, item, inventory levels and customers.
To achieve this, Microsoft acquired the well known and highly regarded Shopify integrator, Scaptify from Scapta Appfactory. Microsoft embedded the new connector into their core offering of Business Central, making it available to all customers in Microsoft's cloud hosting model at no cost.
Connecting Shopify Items & Inventory to Business Central
A Business Central Item is the same as a Shopify Product. The connector lets us automatically create populate the list of products in Shopify based on a subset of Business Central items to avoid double handling.
Once item/product relationships are setup, Job Queues define the frequency (every day, every hour) that data is synchronised with Shopify. This includes updating available inventory which is calculated as Inventory + Scheduled Receipts (Purchase Orders, Transfer Receipts) – Scheduled Shipments (Sales Orders, Transfer Shipments).
Connecting Shopify Customers to Business Central
Unlike Business Central, customers are not static in Shopify since any user can check out as a guest without logging in. The connector lets us choose from three different 'Customer Mapping Types':
Always take the default customer – uses the customer defined in the Default Customer No. field
By Email/Phone – tries to find the existing customer by ID first, then by email, and then by phone number. If the customer isn't found, the connector creates a new customer.
By Bill-to Info – tries to find the existing customer by ID first and then by the bill-to address information. If the customer isn't found, the connector creates a new customer.
Our clients tend to avoid creating a customer in their ERP system each time a customer makes a purchase through the website. In these cases, we would set up a single default Shopify customer and store the customer's details on each instance of sale. The connector supports this scenario.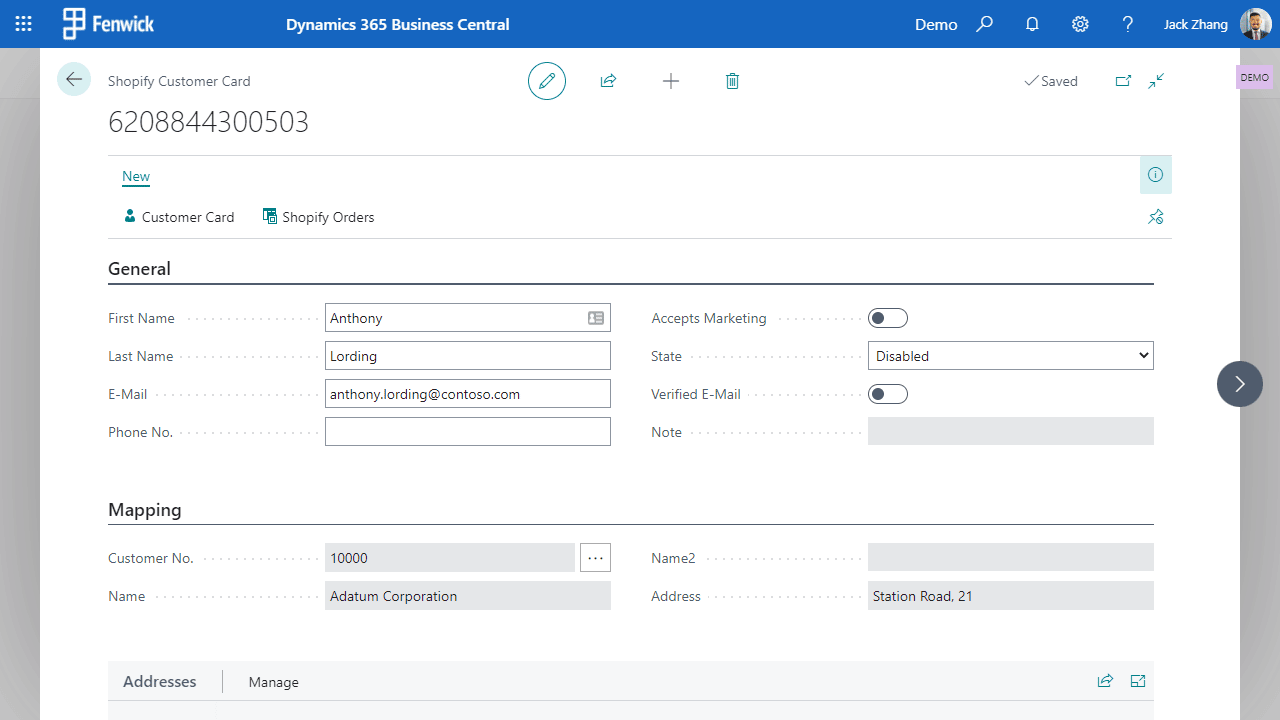 Connecting Shopify Orders to Business Central
The connector creates a record in the Shopify Orders staging table when an order is downloaded . This can be reviewed before it is created as a sales order in Business Central. The connector assumes that posting groups and such are defined by the customer in Business Central. However, it does allow mapping between the two systems for shipment methods, payment methods and locations.
A regular Shopify order can also include other costs in addition to the subtotal, such as shipping charges and tips. These costs are attached to the sales order and posted directly to a G/L account of your choosing.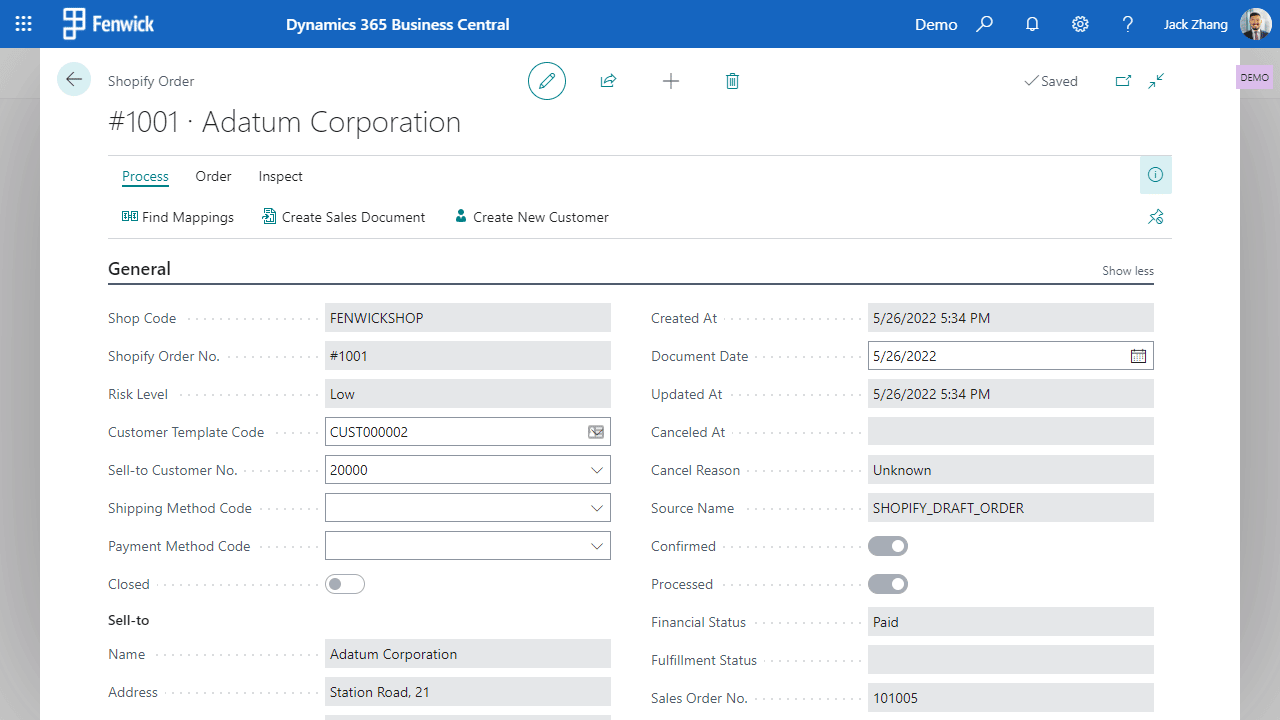 Using more services in Business Central
Shopify isn't just an eCommerce platform, but an entire ecosystem of products. Given the increased compatibility between Shopify and Business Central, we are further equipped to explore utilising other exciting tools they provide:
Point of Sale provides an intuitive interface for capturing retail sales, which has traditionally been seen as a weak point in Business Central.
Buy Button adds an embedded checkout function to compatible platforms such as WordPress, Squarespace and Wix. This can be handy if you are running an existing site or blog and would like to enable checkout functionality.
At Fenwick, we have built many connections between Business Central and web stores such as Shopify, WooCommerce and Magento. We're happy to see Microsoft investing more in this space and excited to grow the use of this tool in an ever connected world.