Print-It with Cloud Companion integrates with the standard printing events which enable you to print the reports with the desired printers based on your printer selections in Business Central.
In this article, we will guide your through the two main scenarios using the Post & Print feature and manual printing on a sales order.
Before we get started
Please make sure that you have set up Cloud Companion and created the printer integrations in order to use printer management in this article. If you are unsure, please read through the instructions in the following articles:
Post & Print with Cloud Companion
We are going to post and print a sales shipment in this example.
Open Printer Selections page via the Search box
Add a new entry for the document that you wish to print out once it is posted. Choose the ID of your current user, the ID of the target document and the name of the Printer Integration record in step 2.
Locate and open Sales Orders page
Fill out the required details for the order
Navigate to Posting tab, and then choose the Post and Print… action
Choose Ship on the posting dialog and then choose OK
The document will then be sent to Fenwick Cloud Companion service for printing
Once the progress dialog closes, the document will be printed with your chosen printer in step 5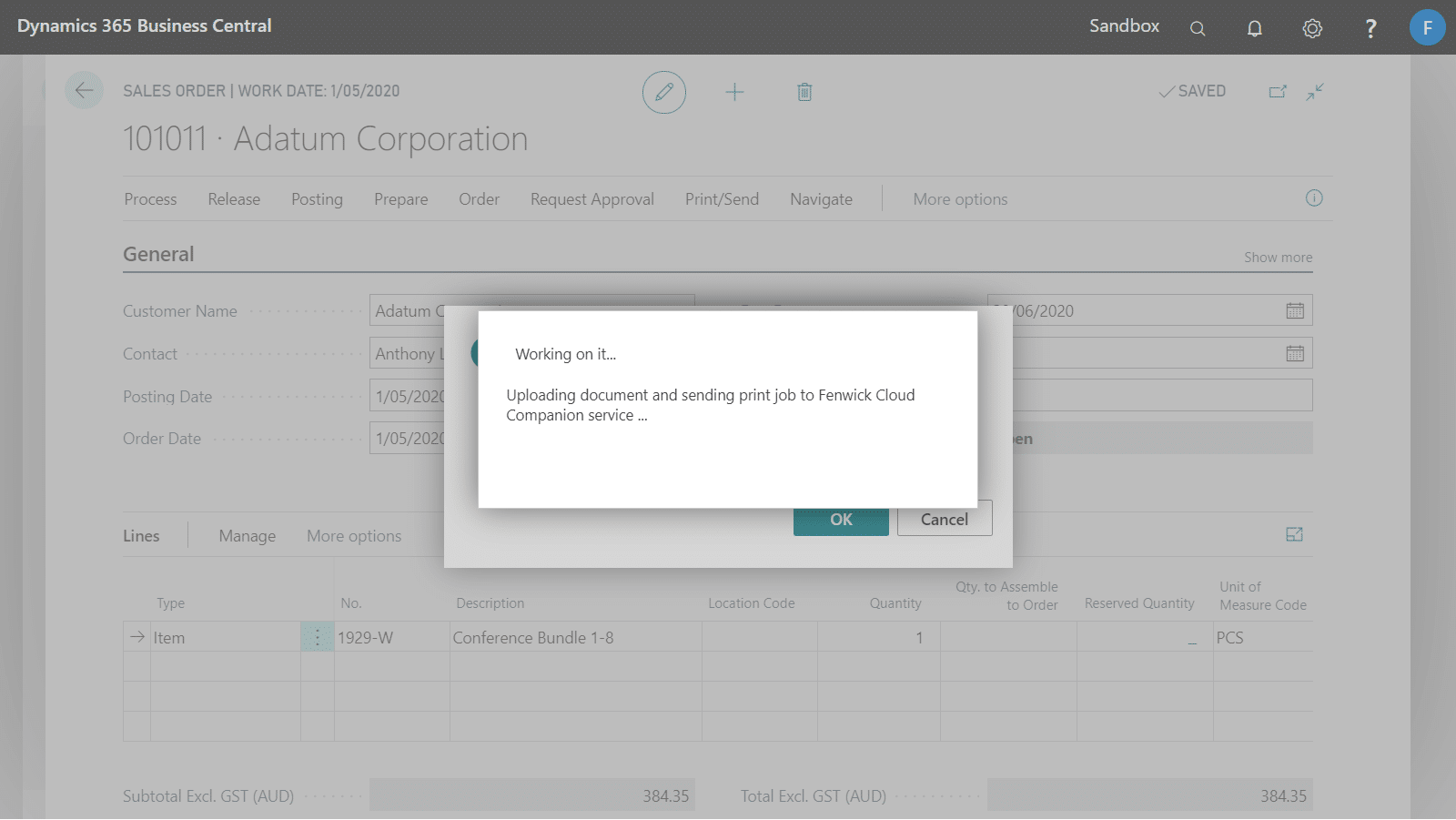 Manual printing with Cloud Companion
In this example, we are going to print a pick instruction manually from a sales order.
Open the Printer Selections page via the Search box
Create a Printer Selection record for your user against the Pick Instruction report
Open Sales Orders page via the Search box, and then create a new sales order
Fill out the required details for the order
Navigate to the Actions tab, choose the Pick Instruction action under the Print group.
On the report's request page, the selected printer field will be automatically populated based on your printer selection in Step 3. Under the Options section, enter the No of Copies that you would want to print and then choose Print.
The pick instruction will be sent to Fenwick Cloud Companion service for printing
Once the progress dialog closes, the document will be sent to your selected printer for printing