After setting up the Cloud Companion connection you can set how emailing and Outlook will behave when sending or emailing documents from Business Central.
Sending an email via Outlook & Cloud Companion
The steps to send an email through Outlook is the same as Dynamics 365 Business Central.
Open a document.
Select either the Email or Send… button.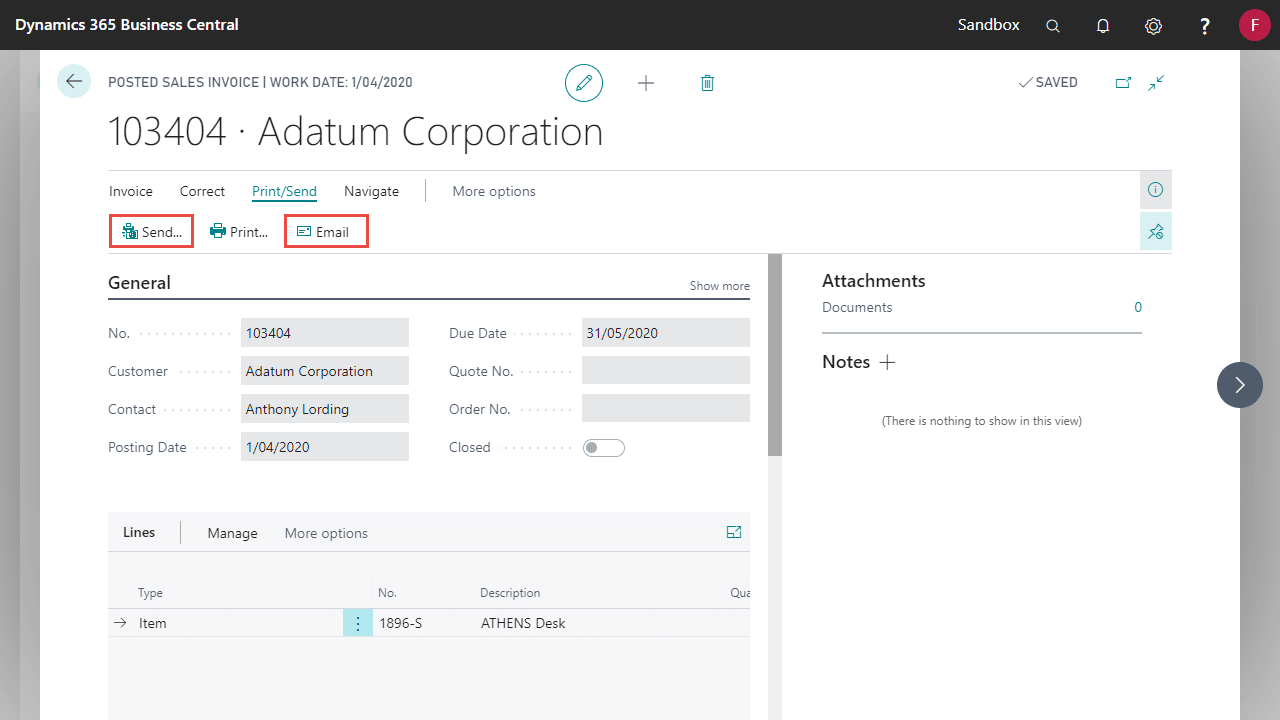 Changing the email layout and addresses
Cloud Companion will send the email to the same recipient using the Document Layouts setup for each customer or vendor.
If the Document Layouts isn't set up for the target customer or vendor, Business Central will default the email recipient to the contact's email address.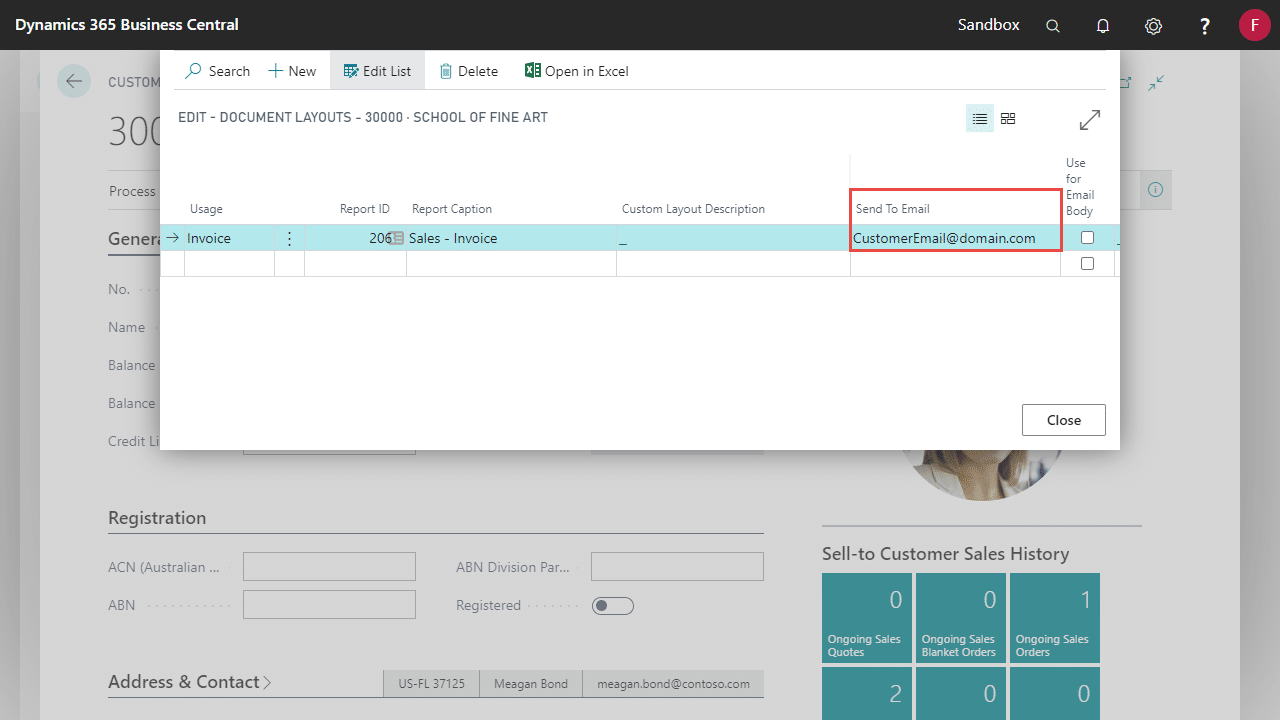 Setting up an Email Account
Cloud Companion integrates with the standard emailing system in Business Central. Below is a short summary of how to setup an Email Account with Cloud Companion, for the full documentation see Set Up Email (docs.microsoft.com).
Navigate to the Set Up Email page and create an Email Account of type Outlook (via Cloud Companion).
Once the account is created, navigate to the Email Scenario Assignment page and assign reporting scenarios to newly created email account, these reports will be sent via Outlook.
The following table explains the additional options for the Cloud Companion for Outlook set up:
| Option | Description |
| --- | --- |
| Show Standard Dialog | Specifies if the standard email editor page will be shown before sending the email. |
| Show Email Dialog | Specifies if Outlook will show the compose email window before sending the email, or directly send the email without any user confirmation. |
| Include Signature | Specifies if Outlook will include the default signature when sending emails. |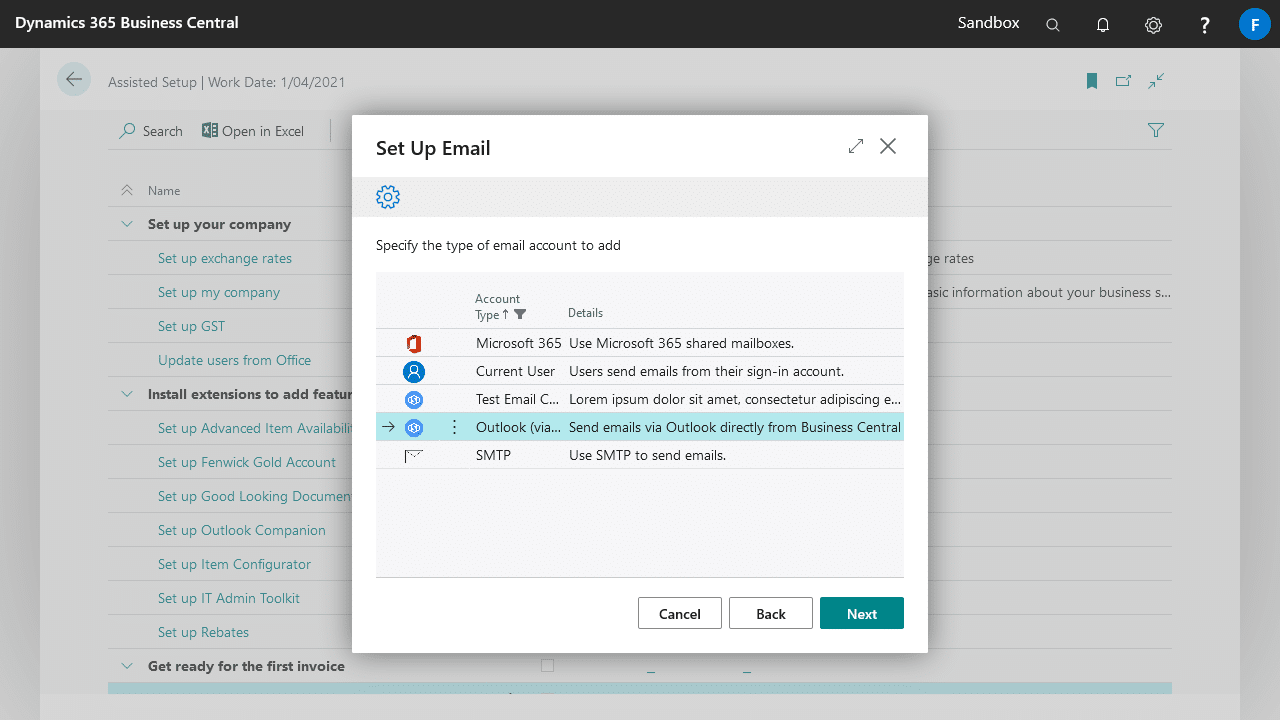 Testing the Outlook connection
You can test the connection by running the Test Outlook Companion option from the Cloud Companion setup wizard.
Open the Cloud Companion Assisted Setup.
Enter in a Test Email Recipient and select Test Outlook Companion.
Confirm that an Outlook compose email windows appears. It should have:

A recipient the same as Test Email Recipient
A test file attached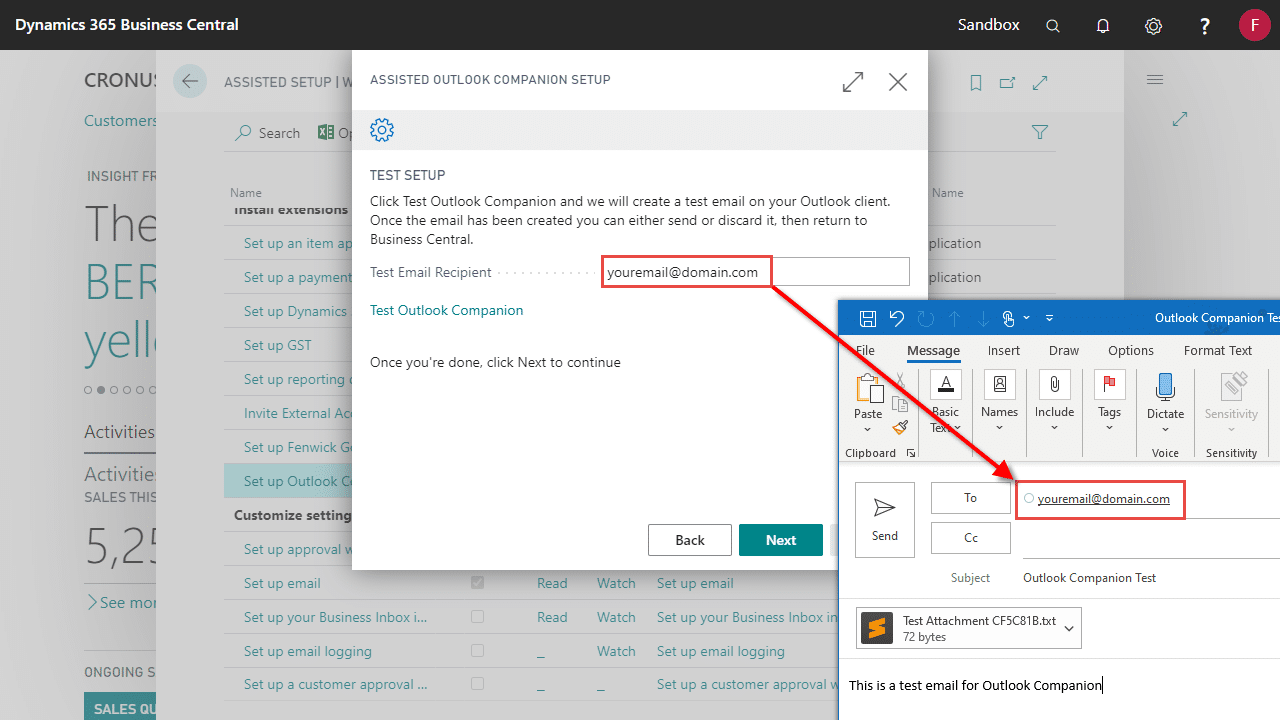 Overriding Email Account settings on a per user basis
You can override the Email Account settings when using Cloud Companion on a per user basis with User Emailing Setup. Users not specified here will use the setup from the Email Account.
Navigate to the Cloud Companion for Outlook Setup page, and select User Emailing Setup.
Insert a new record and specify the user and their specific emailing setup.