We're thrilled to introduce our refreshed Power BI Gold reporting suite!
Our dedicated team has been hard at work to enhance the core product, building upon the success of version 4.0. We recognized the need for a redesign to deliver an exceptional user experience. As a result, we've revamped the user interface, making it more intuitive and user-friendly. Additionally, we've incorporated exciting new features from Dynamics 365 Business Central and Microsoft's Power BI tool.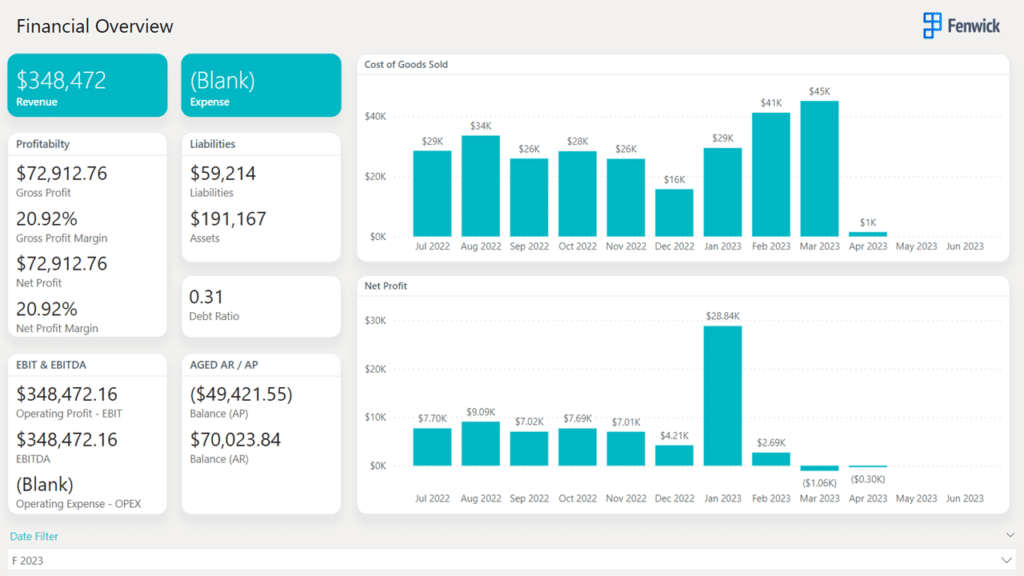 In this post, we'll explore the motivations behind the redesign and highlight the notable features and benefits of the Power BI Gold reporting suite. Don't miss this opportunity to elevate your reporting capabilities!
The redesign process
Our redesign journey was a collaborative effort, bringing together a team of experts from various fields. Our Power BI team, along with designers, product managers, Business Central developers, and end users, worked together to elevate our product.
We started by gathering feedback from our users, listening to what worked well and what needed improvement. Through conversations with power users and analysing support tickets, we identified common pain points that guided our development process. One key takeaway was the need for a better user interface. Users preferred a minimalist approach, focusing on essential elements. This inspired us to create an intuitive interface for a seamless user experience.
We also wanted to stay up to date with technology and industry trends. We made improvements to query structure, data granularity, and introduced a mobile view in Power BI.
In the next section, we will highlight the exciting features that emerged from our redesign process. Get ready to discover the possibilities in our revitalized reporting suite.
New features in Power BI Gold
Query Performance and Data Granularity
In our latest release, we have improved how we retrieve data using Business Central's new query type system. By using Page and Query objects as APIs, we take advantage of the service tier cache, resulting in faster response times and improved system performance.
To optimize queries, we have de-aggregated our fact-table queries and added primary key fields. This targeted approach has led to faster query execution and improved data granularity in our datasets.
With these enhancements, users can now drill down to individual ledger entries, making reconciliation faster and more convenient than ever before.
Mobile Views
In our commitment to providing a seamless and optimized reporting experience, we are thrilled to unveil the new Mobile View feature in the Power BI Gold reporting suite.
It provides a tailored experience for accessing and exploring your reports on smartphones and tablets. Each report comes with a mobile version that fits your device's screen size, ensuring a responsive layout.
With Mobile View, you can effortlessly navigate through your reports using intuitive gestures like swiping, pinching, and tapping. This makes it easier to drill down into your data and access key insights while on the go. Stay connected and make informed decisions wherever you are.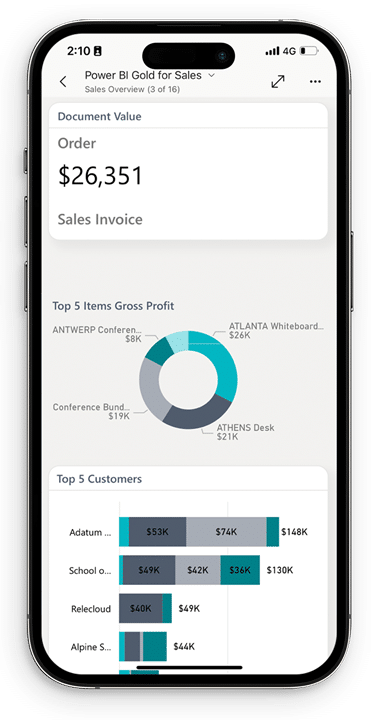 Refined Reports and New Theme
We've made significant improvements to the new Power BI Gold suite, focusing on delivering targeted and relevant insights without clutter. Our clean and intuitive interface allows you to navigate effortlessly and absorb key information.
To enhance usability, we've streamlined on-page filters, including only the essential ones. Other filters are now conveniently located in the filter pane, providing a more efficient filtering experience.
Introducing the New Business Central Theme, which seamlessly aligns with the parent system. With familiar Business Central Theme colours, the visual integration between Power BI Gold and Business Central is cohesive, reinforcing the connection between the reporting suite and the underlying data source.
Time Intelligence
To add more value to our existing out-of-box features, we've redesigned and expanded our Time Intelligence measures. These new measures empower you to gain deeper insights and unlock the full potential of your data when analysing time-based trends and patterns.
With our robust Time Intelligence calculations, you can now perform advanced analysis across fiscal, standard, and weekly calendars. Seamlessly switch between different time dimensions and effortlessly track performance over specific periods of time, enhancing your decision-making process.
Our new measures offer comprehensive support for a range of essential calculations including:
Moving Annual Total Growth
Moving Averages
Period-Over-Period Growth
Period-To-Date Growth
Period-To-Date Over Full Previous Period
Period-To-Date Total
Support for Multiple Calendars
Another exciting feature of the redesign is support for three distinct calendar types. You can now align your reporting with Fiscal Year, Standard Year, or Week Based calendars to meet your business needs.
To ensure accurate time-based analysis, each calendar is paired with a set of matching time intelligence measures. Additionally, the Power BI Gold Finance dataset includes calculation groups that expand the time intelligence functionality. For more information about calculation groups in Power BI Gold Finance, please visit our documentation page.
How to get started with the refreshed Power BI Gold Suite
Get started with a 30-day free trial of Power BI Gold by following our quick start guide: Installing Power BI Gold.
Power BI Gold is billed on a monthly subscription based on the number of Power BI Pro users. For additional information or assistance, please contact support@fenwick.com.au
Out of the box analytics
The redesigned Power BI Gold reporting suite is a game-changer for Business Central users, providing advanced reporting capabilities. Through this update, we've built upon the success of the previous version and added new features to meet the evolving needs of our users.
With the enhanced user interface, reporting becomes seamless and intuitive. You can effortlessly navigate and extract insights more efficiently. We encourage you to give the redesigned Power BI Gold reporting suite a try and explore its full range of features.
Your feedback is invaluable as we strive to improve and refine our product. Join us in shaping the future of Business Central reporting by sharing your experiences and insights. Take the opportunity to try it out today and be part of our quest for unparalleled reporting capabilities.